We had whats called the GIAG this weekend, or the Give It A Go. In this case people were giving roleplaying games ago. I prepped and ran a game of Paranoia. I picked up a copy of Paranoia 1st ed of Ebay about a year ago and had been looking for an opportunity to inflict it on the unsuspecting ever since.
Welcome Trouble Shooter!
Your Loyal Service to Computer will be rewarded!
Remember Traitors are everywhere!
Paranoia is a comedic sci fi roleplaying game that puts the players in position of being police grunts in a cold war totalitarian society that lives in a huge underground complex governed by an insane computer.
Conceptually this is an easy game to run. Each player is a member of a secret society and a mutant, both of which are treasonous to Friend Computer (the GM). The players must work together to complete a mission, in this case restore power to the Marine Facility, whilst hunting for traitors (each other). What results is lots of, well paranoia, followed by mindless violence and lots of poor decision making.
I sent five trouble shooters to this place;
A map i drew in GIMP based on a tutorial on cartographers guild.
The Alpha Complex Marine facility. Each player randomly drew a pregen character sheet. They got to roll up stats and choose from a list of skills. but i had given them each a random mutation and secret society with its ulterior objective. Initially they were all very well behaved and sucked up to the Friend Computer, they didn't raid the security room (room 2) and take all the guns there in. They didn't lynch each other. Then two players murdered a technician npc they suspected of being a commie, another pc went exploring the flood facility by himself and lost his legs to a shark he tried to surf, and further pc fell afoul of a giant kraken.
30 minutes later im dealing with one player popping a grenade towards his 'comrades' before shutting a door. The blast took out the observation window glass flooding the room. All four players in the room failed their swim checks. Luckily all characters have clone replacements.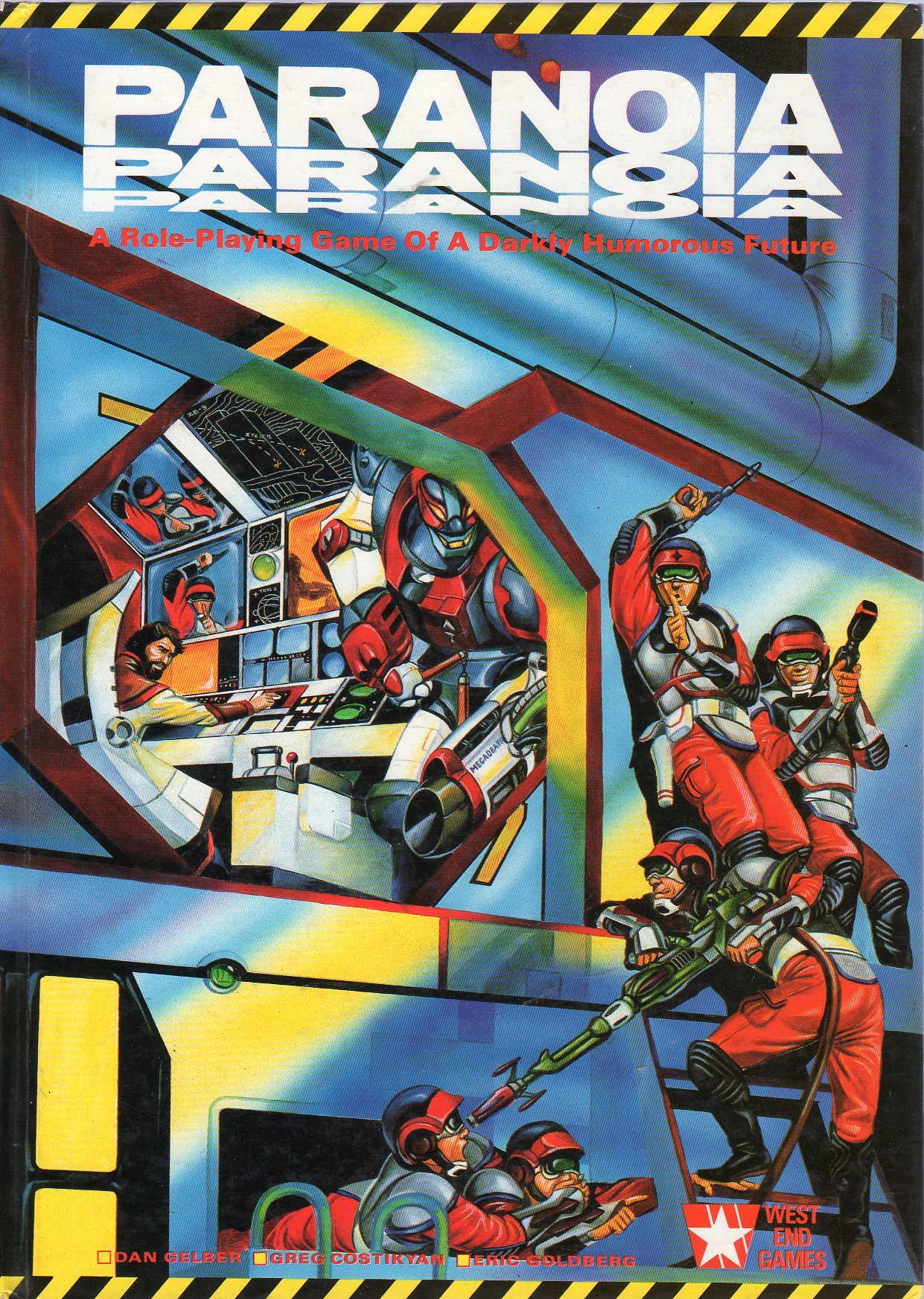 Two player characters ultimately survived. Only one of them wound up on the bottom of the ocean in a submarine he had no idea how to operate.
Paranoia is an excellent game concept. The rule book itself is rather a product of its age, and not entirely in a good way. The game ideas are good, but the rules detail is completely over the top for what is a comic game conducive to one shots. It uses two different dice systems for attribute and skill tests, look up tables cross referencing armour and weapons for attack damage, and a skill tree system with lots of maths for calculating skill levels. I take a fairly DIY approach to games so i stripped a lot of this crap out. I wonder whether the newer editions are an improvement, or whether they loose the flair of the original even if they sort the rules out. I probably won't find out either way, since I'll only play Paranoia on occasions and 1st ed fits the bill for that.